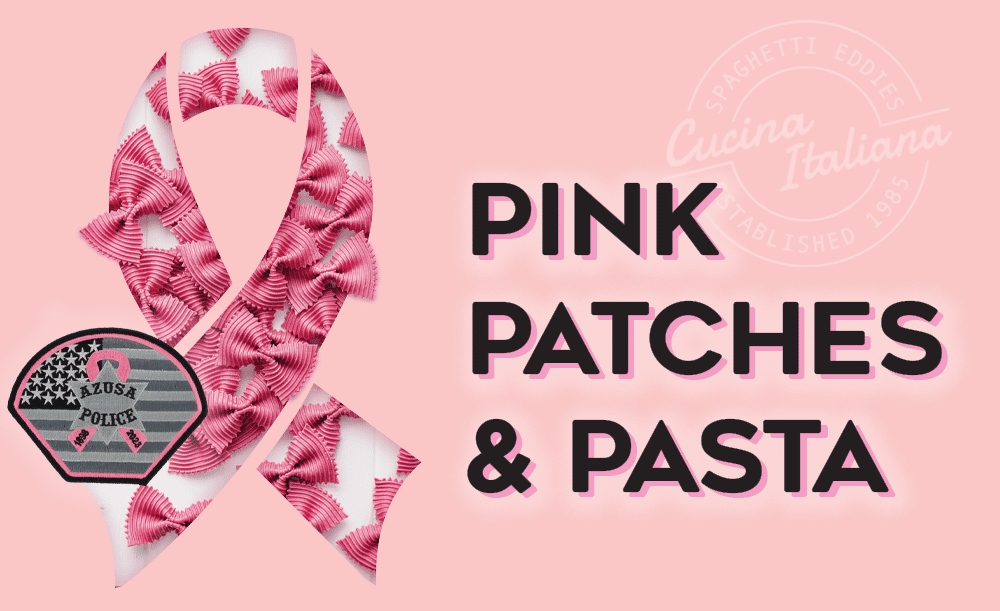 Spaghetti Eddie's Partners with Local Police for Pink Patches & Pasta Event
Spaghetti Eddie's Partners with Local Police for Pink Patches & Pasta Event
On Wednesday, October 11 and Wednesday, October 19 from 5:00 p.m. – 8:30 p.m., Italian food lovers are invited to Spaghetti Eddie's Cucina Italiana (946 S Grand Ave, Glendora) for dinner to support breast cancer awareness and research, in conjunction with two local police departments.
The restaurant has teamed up with both the Azusa and Glendora Police Departments to raise money for City of Hope's breast cancer research and awareness initiatives. Spaghetti Eddie's will donate a percentage of sales from each night during the event, which is called Pink Patches & Pasta.
Hungry attendees can enjoy Spaghetti Eddie's authentic Italian cuisine and will have the chance to meet police force from both cities, who volunteer their time to raise money through these events every October. Law enforcement officers will also be selling their cities respective pink patches and other merchandise as another way to fundraise for the cause.
Spaghetti Eddie's has been an ongoing supporter of local breast cancer research, and together with the Glendora and Azusa Police Departments, has raised thousands for City of Hope.
Every year during the month of October, Spaghetti Eddie's also runs the campaign, Puffs for Hope. At both the Glendora restaurant and their sister restaurant, Eddie's Italian Eatery in Claremont, $1 is donated to City of Hope for every order of Garlic Puffs purchased.
Event Info
Pink Patches & Pasta
Wednesday, October 11 with Azusa PD
5:00 – 8:30 pm
Pink Patches & Pasta
Wednesday, October 19 with Glendora PD
5:00 – 8:30 pm